Hanrox Free Range Turkeys
Hertfordshire's Finest. Reared Locally - Farm Fresh
COOKING YOUR TURKEY

A soon as possible, on receiving your turkey, remove all packaging and store in a cool place, preferable the bottom of your refrigerator. Remove the giblets if they are inside and also keep in the cool. The bird is best cooked within 2-3 days of purchase.
Cooking on Christmas Day

Our method should help you to produce a truly tasty turkey with especially succulent breast meat.
If you wish to stuff your turkey, prepare your favourite stuffing recipe and fill the neck cavity only. You may like to put a large Bramley apple or peeled onion into the body cavity.
Sprinkle the bird with salt and pepper and smear butter all over place hand and peel skin away from breast and place a knob of butter in and spread then cover with foil in a roasting tin.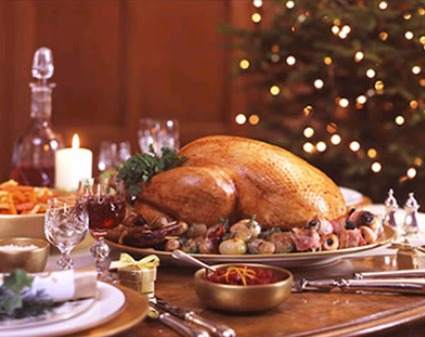 The oven should be pre-heated to 190C/375F gas mark 5 and the bird cooked at this temperature for 20 minutes per kilo plus 90min depending on size fan assisted less time (cooking times may very). About 20 minutes before the end of cooking open the foil to brown the breast, to cheque to see if turkey is cooked place a skewer into the thigh if it runs red or pink still needs a little more cooking when it runs clear the turkey is ready.
 Most Important
Do try to avoid over-cooking. Test with a Skewer on the inside of the thigh – the bird is ready when the juices run clear.
After cooking, allow the turkey to rest for about 15 to 20 minutes, and then carve.
How much per person;

Whole Bird ….1 kg (2lb) per person
Crown…….1/3 kg per person
These are only a guide depending on how much you require for leftovers and future use.
HOW TO MAKE TURKEY STOCK WITH THE GIBLETS

Roast the giblets in a medium to hot oven until brown (20 mins). In a pan add roughly chopped onion, celery and carrot and lightly brown in a little oil.  Then add roughly chopped garlic and the roasted giblets. Add herbs to taste. Cover with cold water, and bring to boil, skim and simmer gently for 30 mins to one hour
The above are just guide lines please allow aprox 3-4 hours for average size Turkey. We normally cook turkey then cook remaining dinner while turkey is resting before carving.
RECIPES FOR LEFTOVERS
Why not let us know what you do with your leftovers. Share your recipe with others. Email your recipe to graham@hanroxturkeys.co.uk and we will publish your recipe on the site for others to try!
Merry Christmas from all at Hanrox Turkeys